10th Assembly: My First Bill Will Be To  Criminalize Non Payment Of Salaries, Pensions In Nigeria – Nnamani
Ahead of the inauguration of the 10th National House of Assembly, the member-elect for Aba North/South Federal Constituency, Hon Emeka Nnamani  has told newsmen in Umuahia  that the first Bill to likely sponsor once he is sworn in as a Federal lawmaker, is the Criminalization of Non Payment of Salaries and Pensions across the Federal Republic of Nigeria.
Nnamani said he has been able to put down several bills together, waiting for their Inauguration , stating that once the House members are sworn in, he would  hit the ground running.
Explaining further the Bill he intends to sponsor first, which is the Criminalization of Non Payment of Salaries /Pensions  across state, federal governments and private establishments, Hon Emeka Nnamani  said the Bill if turned into Law would be the first of its kind, as it would address wholistically the encumbrances of employees.
According  to him, employers whether in the private or government sectors, would nolonger get away easily owing workers their wages, after work has been done, as there would  be a standing law to punish anyone who defaults in paying his employees.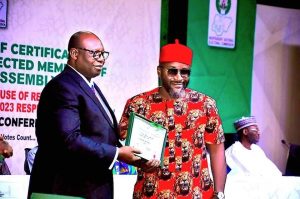 "This issue of non payment of salaries and pensions has be inherent in most  establishments in Nigeria, nobody has been  able to adddress this issue head-on but with this bill, the non payment of salaries will become a criminal offence and actionable too".
The member elect also revealed that he is coming to change the narrative in Aba North and South Federal Constituency, as the area has been backward in legislation and representation, insisting  that he would bring to the fore, legislation that would reposition his primary constituency (Aba North/South) and as well as, his secondary  constituency (Nigeria), disclosing that he has the capacity to bring the needed change.
However, Hon Nnamani, commended the newly sworn in Governor of Abia State, Dr Alex Otti, for reiterating his commitment to create the Ministry of Aba, which would  help to reposition Aba economically. The Federal Lawmaker  stated that the policy of the new Governor would also aid in actualizing his programmes for the constituency.
He added that the unveiling of the Ministry of Aba would not only  bring the government presence closer to the commercial centre, but would boost economic activities in the area, describing the new Governor as a man of character, capacity and candour, who have what it takes to work out his plans for the state.