Abia NULGE Commissions Secretariat, Reaffirms Commitment To Protect Workers Against Victimization
Abia state chapter of the Nigerian Union of Local Government Employees (NULGE), has commissioned its office complex in Umuahia, with a firm decision to protect Local Government workers from any form of victimization or injustice.
The Commissioning which was also used to honour deserving Abians who have contributed immensely  not just to the realization of the NULGE secretariat, but to the welfare of workers,had the Governor of the State, the Speaker of the Abia State House of Assembly,the NULGE National President,among other notable dignitaries in attendance.
In an Interview with newsmen, the NULGE president of Abia State, Kennedy Nwaigwe, expressed joy that the Secretariat for the Union is being realized, inspite of the challenges that bedeviled the building process.
According to him the building project started under Comr Eze Idima and got collapsed at the 2nd floor, but they didn't relent in continuing the project.
Recounting the achievements of Abia NULGE under his watch, Comr Nwaigwe stated that the Union among its Action plan has stated  that non of its workers would be victimized unjustly, forcefully victimized or denied their rights.
He said the Union is at alert,always in an interface with the government, confronting and negotiating with them,when the need arises, adding that the union would up its game in pursuing the welfare of the workers, urging the workers to take their work seriously.
On the issue of challenges facing the union in Abia, the NULGE President disclosed that the non payment of consequential arrears to workers, two months backlog of salaries and other minor challenges,are confronting the Union,but stated that soon, the issues would be a thing of the past.
Also, the former NULGE President of Abia, Comr Eze Wuzor Idima, congratulated the Union under the watch of Comr Nwaigwe for accomplishing the NULGE Secretariat which he started years ago.
Comr Idima, however, commended the courage and sagacity of the present leadership of NULGE for not relenting in pursuing the NULGE Secretariat,even when it collapsed, saying it shows commitment and zeal to reposition Abia NULGE.
Idima who is now the State Chairman of Nigerian Labour Congress,Abia State Chapter, further expressed joy his successors did not leave the project abandoned.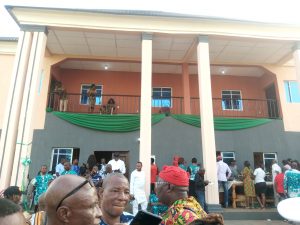 HE further urged the media to help in the quest for Local Government Autonomy, which he said would do more good to the local government system.